[5:58 AM] TheKillerNacho:
Musk Rod is now a Dispell Magic rod.
[8:13 AM] TheKillerNacho:
I added the outstanding Discord emotes to both FrankerZ and BetterTTV. FrankerZ emotes need to be approved, and I don't know how long it will take. Most of the BetterTTV ones were "auto approved", but when I tried them in chat, it didn't seem to be working despite having both installed, so I dunno. Hopefully both apps will display these emotes in FFTBattleground chat in the coming days though. When I make partner I will probably take these down to become official Twitch emotes. But for now, there you go.
8
8
6
6
[9:01 AM] TheKillerNacho:
TOC1 has been uploaded to Youtube to avoid the eventual Twitch Highlight purge. https://youtu.be/GCr_AG4c8mAYouTubeTheKillerNachoFFTBattleground – Tournament of Champions!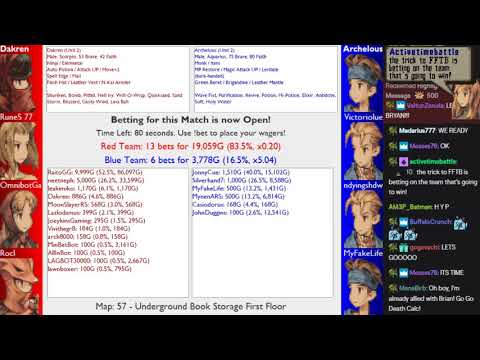 5
3TheKillerNacho pinned a message to this channel. See all the pins.02/26/2020
[10:36 AM] TheKillerNacho:
I made some code changes that the bot should recover now if disconnected from Twitch chat, which should resume normal betting procedures instead of having to wait until the end of the round. @Stream Fixer , you shouldn't need this but just in case, if the bot doesn't automatically recover from such errors you can try to use a new !fixstream parameter: "!fixstream bot", which will only attempt to recover gameblebot